Over the last decade, bifold doors have steadily risen in popularity across West Yorkshire and are rapidly becoming the door of choice for many homeowners looking for an innovative and aesthetic door solution. Our bifold doors are available exclusively in contemporary and energy efficient aluminium.
Make your dream home a reality
Offset the cost of your Upgrades with Guaranteed savings on heating
Bifold doors are typically a set of 2 or more standard size glass doors, also known as leaves, that open in a concertina style and neatly fold flat against the wall when open. Unlike a sliding patio door, that remains only half open, bifold doors fully open to seamlessly connect your living space with your garden.
Energy efficient
aluminium bifold doors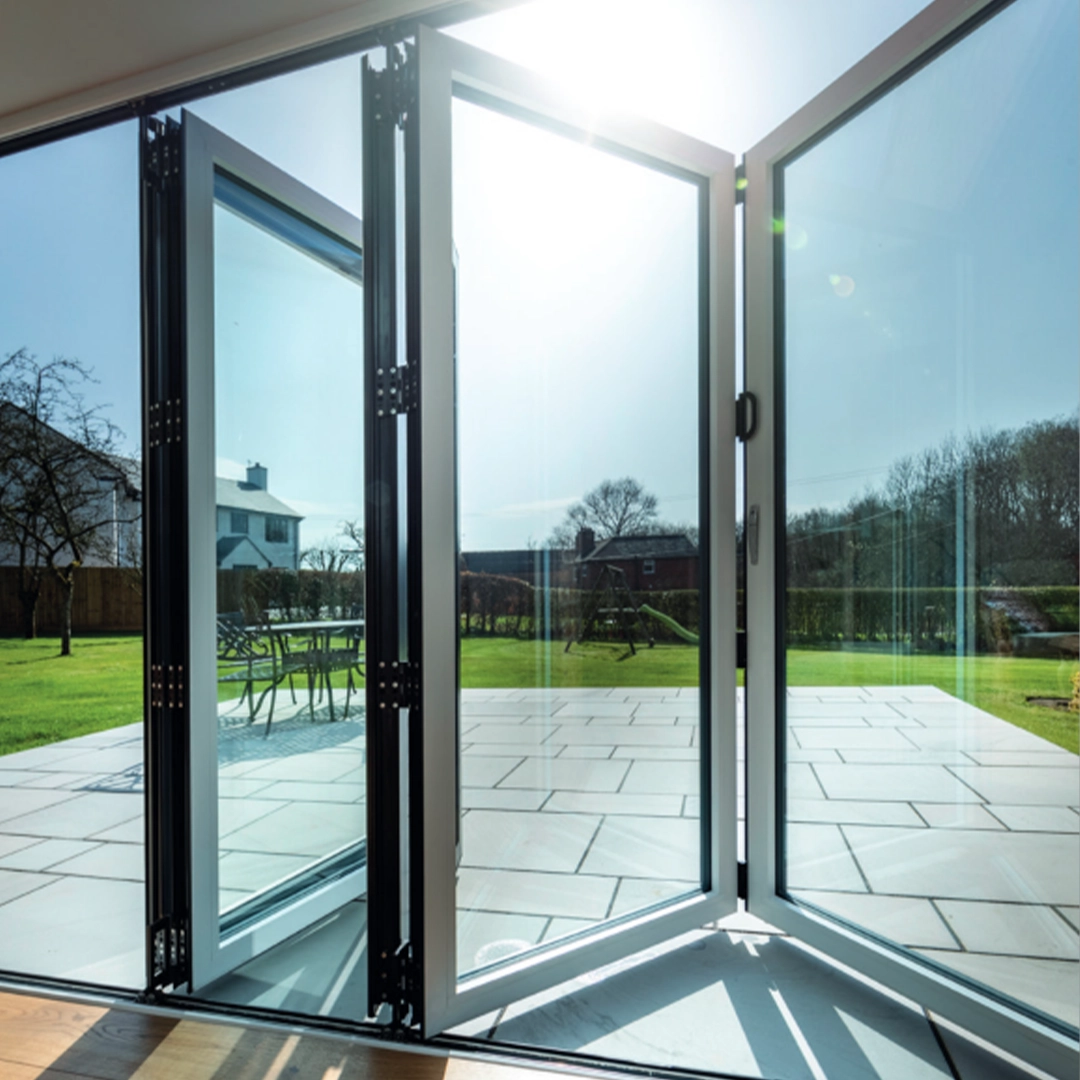 How thermally efficient are aluminium bifold doors?
As bifold doors are made up of multiple large panes of glass, it's important that your doors are thermally efficient, keeping your home warm and your energy bills down. Our aluminium bifold doors offer A+ energy ratings and U-values far below the minimum requirement of 1.8 W/m2k, achieving an average U-value of 1.4 W/m2k.
Thanks to developments over time, aluminium (a normally conductive material) can be altered to increase thermal efficiency to match the level of uPVC using various methods such as thermal break technology.
What is better for your home, aluminium or uPVC bifold doors?
Bifold doors are commonly available in a choice of two popular materials, aluminium or uPVC. Here at Walkers, we exclusively supply our beautiful bifolds in innovative aluminium, and to help our customers understand why, we've compared the differences between uPVC and aluminium bifolds to highlight the benefits of investing in aluminium bifold doors for your home.
How much do bifold doors cost?
For a lot of people, the first thing they look at when comparing two products is the price. uPVC bifold doors can sometimes be cheaper, however, you should think of the bigger picture as aluminium can save you more money in the long term as it is stronger and often more energy efficient than uPVC. Our aluminium bifold doors come with a 10-year guarantee, so you're protected by the Walkers promise for many happy years to come.
Do bifold doors require regular maintenance?
Aluminium bifold doors are extremely low maintenance and require little to no upkeep. A simple wipe over with a damp cloth will keep your doors looking as good as new, and occasionally sweeping debris from the tracks will ensure your doors open and close smoothly.
What makes bifold doors strong and secure?
Aluminium is naturally stronger than uPVC, which allows it to support large panes of glass even with extremely thin frames. Whilst both materials will keep your house secure, if you're looking for the strongest and most durable material available, aluminium is for you. All of our doors come with multipoint locks and the Ultion lock is fitted as standard.
What colours and finishes do bifold doors come in?
Our aluminium bifold doors are available in a range of finishes and a choice of over 150 RAL colours. Aluminium is stronger than uPVC, so you can have slimmer sightlines which is often desirable for bifold door customers
We have a huge range of door styles available to suit any style of home in West Yorkshire. Browse the options below and talk to us to discover the full range.